Noteworthy Solutions by Gecko Dynamics Laced with Experience Magnetize Researchers at GoodFirms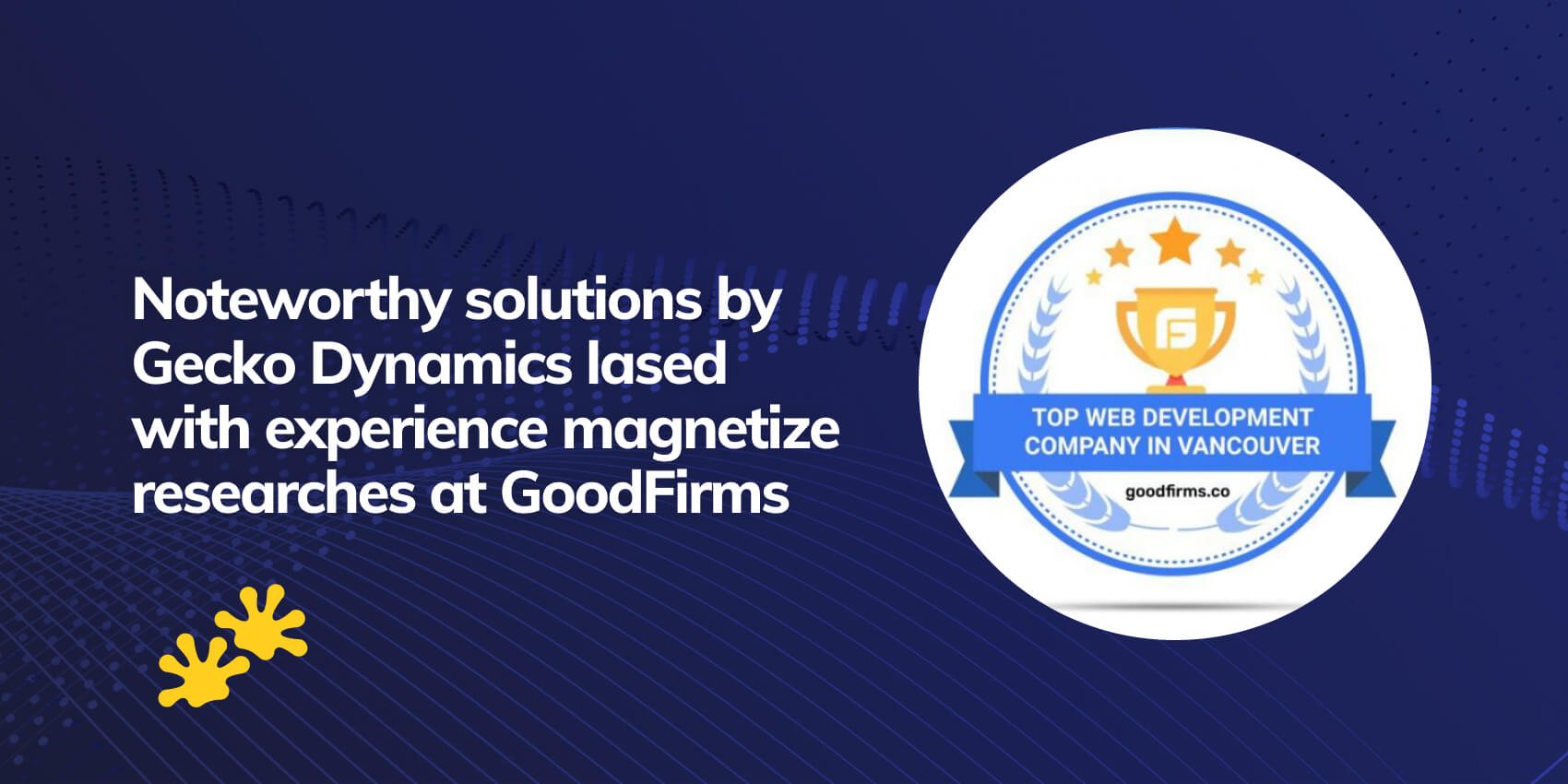 Gecko Dynamics is a renowned name in the field of digital solutions and has made a place of its own in the esteemed list of top web development companies in Vancouver.
Take a good look at the Gecko Dynamics' GoodFirms profile to know more about the remarkable achievements of the firm.
A Wellspring of Digital Proficiency:
Gecko Dynamics, founded in 2002, is a custom software development that provides a full-cycle development of SaaS products, Web and Mobile Apps, custom systems, and IT solutions. Headquartered in Kraków, Poland, which is also the main development center, the firm also operates from Vancouver, Canada. The firm, for more than 17 years, has been a concentration point that has attracted many experienced specialists from diverse IT industries. These professionals have been united with an idea not just to deliver what has been asked for, but to also seek, advise and implement more optimal solutions for businesses. If a more viable, optical, and scalable solution can be delivered than what was expected, Gecko Dynamics has never hesitated to pitch for the solution that can impart more efficiency.
This group of passionate techies operates under the belief and the knowledge that many things can be dealt with in a better and more efficient manner in the software development industry. Whether it is the design element, the management process, the development phase, or the post-deployment support, the firm has always searched for ways of improvement in every field.
Working with a mission to be a true technology partner, not by just nodding heads to a client's requirements, rather by advising and proposing the best solutions for enhancing in terms of performance, time, and money. Functioning with a firm conviction that – our success doesn't exist without yours – Gecko Dynamics has been part of many success stories providing optimal solutions without a drop in quality.
Gecko Dynamics has found itself a place among the coveted list of the leading software development companies in Poland at GoodFirms with their solutions that gives effective management and better performance, which puts businesses ahead in the market.
Mobile Apps That Appeals to Customers and Helps Connect Better:
Mixing experience of professionals well-versed in Android, iOS, & React Native development with excellence in the field of UX and UI, Gecko Dynamics are equipped to develop smart and great-looking apps. Solutions that include MVPs to interactive mobile layers working on top of complex systems, the developers at the firm use their technical acumen to develop mobile apps of any kind or size.
The firm believes in creating value for businesses by creating value for their customers. By sculpting aesthetic appeal into exceptional user-interactions, the skilled developers of the firm build apps that help companies achieve their immediate and long term strategic goals. Their peerless solutions help businesses transform their dream ideas into reality. Along with intuition and innovation, they bring the relevant strategy derived from the experience that turns promising concepts into functional and successful mobile apps.
Sebastian Johnson, Founder at Trail Tips, shared how they went the extra mile to help him and gave them a 5-star rating at GoodFirms stating: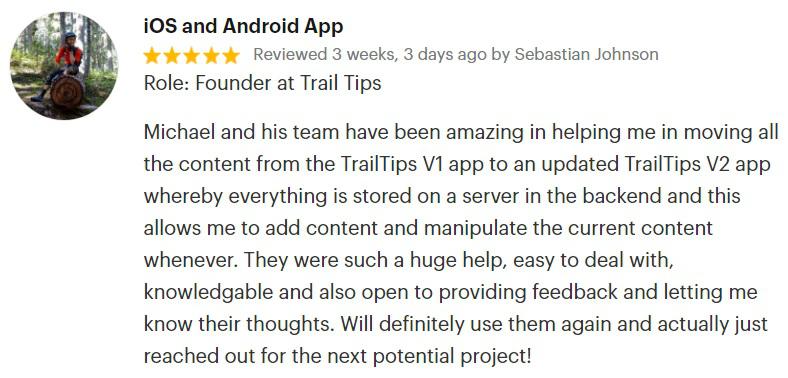 Their continued efforts and thirst for delivering ingenious solutions will lead Gecko Dynamics into the record of the top app development companies at GoodFirms soon.
About GoodFirms
Washington, D.C. based GoodFirms is a maverick B2B research and reviews company that helps in finding web development, software development, and mobile app development companies rendering the best services to its customers. GoodFirms' extensive research process ranks the companies, boosts their online reputation and helps service seekers pick the right technology partner that meets their business needs.
Goodfirms – a Faithful Counsel in Your Pursuit:
GoodFirms is a renowned online B2B company that connects IT seekers to service provider companies. Numerous companies aspire to be included in the GoodFirms' list of premier firms. These companies undergo a thorough evaluation process held by our analysts and researchers. The research process is based on three principal criteria – Quality, Reliability, and Ability. In the GoodFirms list of service provider firms, companies that provide unparalleled services based on these criteria in their respective domains get included.
GoodFirms also assessed Gecko Dynamics, and it was found that the firm has been providing peerless services in the fields of Web Development, Software Development, and Mobile App Development. Below is a brief extract of the report highlighting the key services assessed during that research.
Web Development Solutions Mined from Experience and Expertise:
With experience that has been acquired for more than a decade, Gecko Dynamics has worked with entirely almost every type of web application. This hands-on experience has made the development team at the firm comfortable with working with projects of any complexity or scale. With a broad experience and a personalized approach, you can always depend on having delivered tailored solutions right to the specifications of the project.
Rendering great value to design, implementing the latest UX trends, and applying research results that are based on cognitive science is central to their execution. Using technologies such as Angular, React.js, Vue.js, among others for front end and Java, .NET and PHP for back end development, have helped businesses improve their performance through optimal technology stack and architecture, quicker deployment and clean coding.
It comes as no surprise why Gecko Dynamics is ranked amongst the top web development companies in Vancouver at GoodFirms.
Software Solutions Educed out of Digital Dominance:
With businesses going more and more online, the requirement for customization has increased, and so has the need for the solutions for being more dynamic. Extreme data processing is required for such projects. Riding on innovation and experience along with the capability of developing scalable and high-performance systems, the firm has produced many solutions processing terabytes of data, which are a frequent feature of their portfolio.
Their core unit of developers is proficient in building central supporting structures of multi-tiered systems using technologies such as Java, .NET, Python, and others while also fostering a digital ecosystem with 3rd party services and API integration. Comprehending the needs specific to the business and the industry helps them to address a matter in a better manner and deliver the best solution. Meaning to deliver quality products, the firm has positioned itself as the best fit for enterprises based upon their technological expertise, time-proven solutions, and state-of-the-art innovations.
About the Author
Anna Stark is presently working as a Content Writer with GoodFirms – Washington D.C. based B2B Research Company, which bridges the gap between service seekers and service providers. Anna's current role lingers in her to shape every company's performance and key attributes into words. She firmly believes in the magic of words and equips new strategies that work, always in with ideas, something new to carve, and something original to decorate the firm's identity.