Introduction to SaaS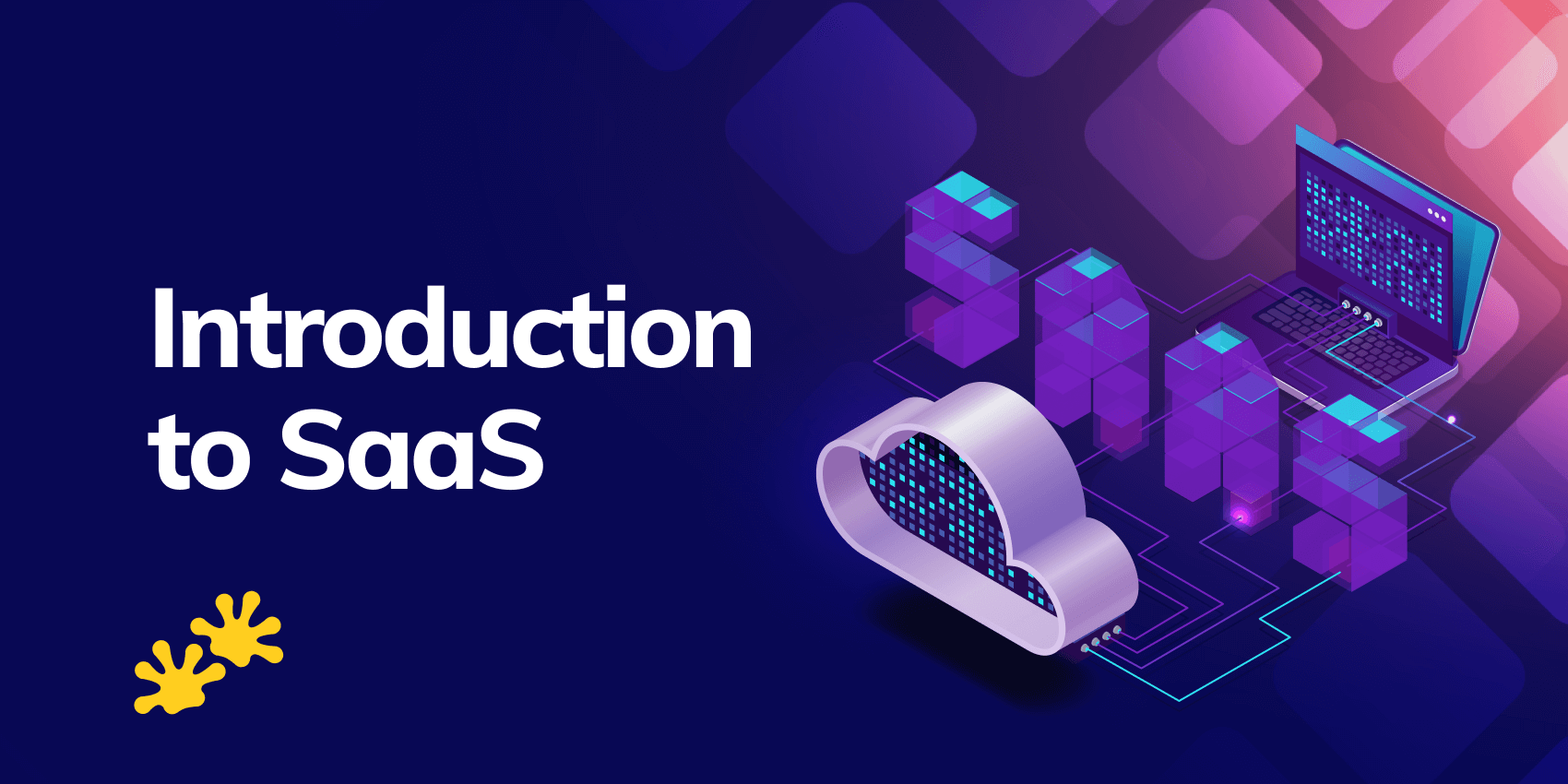 SaaS became a very popular software delivery model, over the last years, cloud computing has been growing rapidly. Let's take a look at the Cisco Annual Internet Report which predicts that 75% of the total cloud workloads and compute instances will be in the form of SaaS by 2022. It's worth adding that in the same rapport you can find predictions that show future growth in the number of people connected to the Internet. According to it, the total number of Internet users is projected to grow from 3.9 billion in 2018 to 5.3 billion by 2023. This represents 51 percent of the global population in 2018 and 66 percent of the global population by 2023. It's worth noting that worldwide spendings on public cloud services are forecast to grow by 18.4% in 2021 to a total of 304.9$ billion, up from $257.5 billion in 2020, according to Gartner, Inc.
This rapid growth in the market makes a gap that can be fulfilled with new technologies and services. That's great news for every business owner, it's also good to know that COVID-19 has changed the way we live and pushed progress toward the future. Virtual work, on-demand services, or telemedicine, even if we knew that it is possible, we thought that this is the distant future, but it happened and changed the world inevitably. We see transitions in every aspect of our lives, so it's hard to predict what the future brings.
Through many years of work, we've discovered that business owners, especially those who are at the beginning of their way, are in need of building high-quality and scalable SaaS products, but don't know how to start the whole process. We decided to share with you some of our experience connected to SAAS product development, and how to go about it.
What is a SAAS?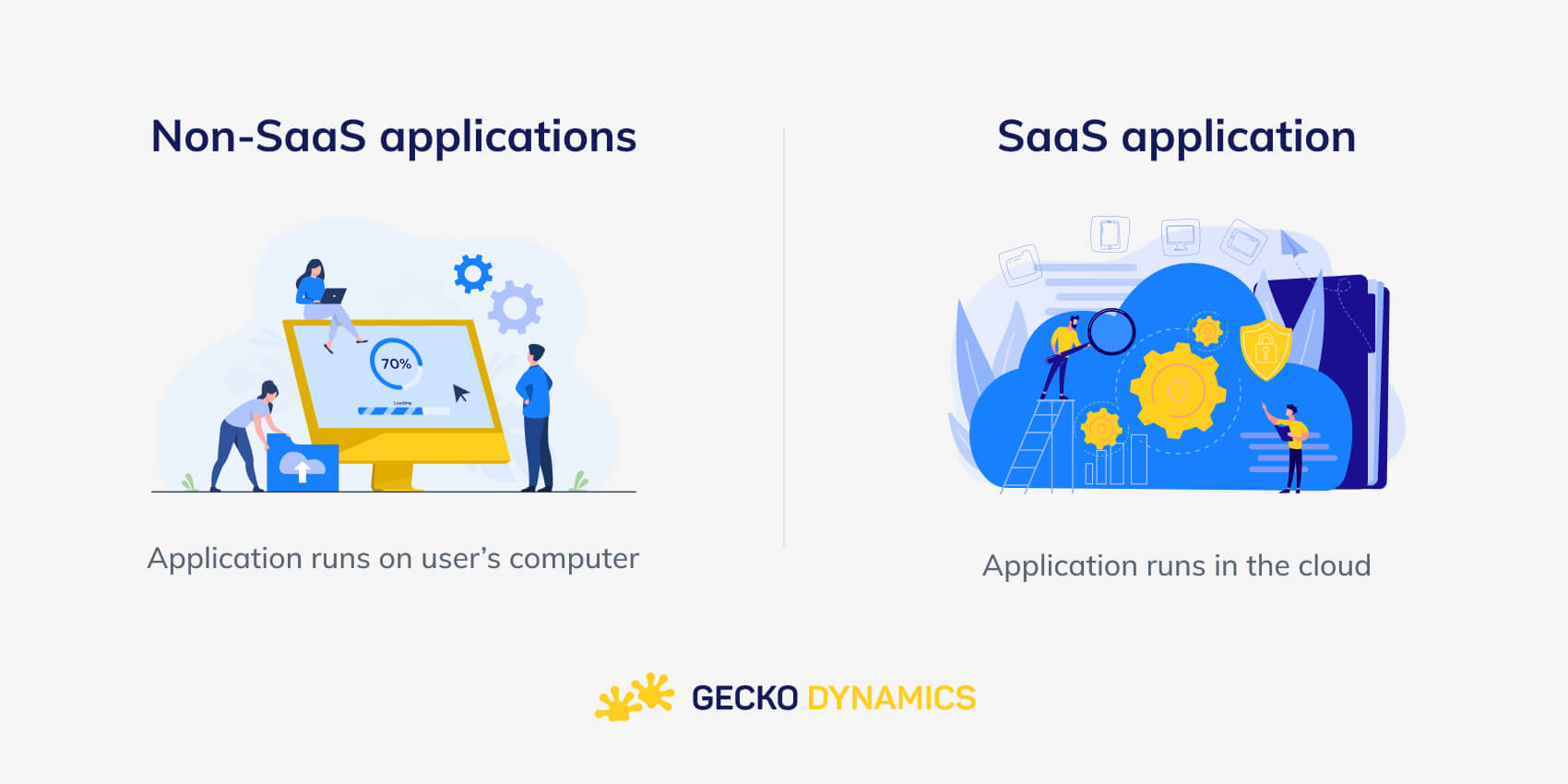 Software as a Service, widely known as SaaS is a software distribution model in which a cloud provider hosts applications and makes them available to end-users over the internet. Instead of downloading software on your desktop PC, you access an application via an internet browser. Those applications could be anything from Business Process Management software to a POS system.
SaaS is one of three main categories of cloud computing, alongside platform as a service (PaaS) and infrastructure as a service (IaaS). This is a significant departure from the on-premises software delivery model allowing organizations to outsource most of the IT responsibilities. SaaS enables enterprises to scale the infrastructure up and down, depending on their needs, without setting up additional hardware and infrastructure. The result is more flexible and scalable operations, but additionally in most cases helps reduce cost due to scalability options.
SaaS is giving an ability to integrate most SaaS applications with other software using application programming interfaces (APIs). That results in a simpler and more cost-effective solution. McKinsey & Company industry analysts estimate that the SaaS market will grow by more than 20 percent annually, reaching nearly $200 billion by 2024. It's a level that would represent nearly one-third of the overall enterprise software market.
SaaS Development
As more businesses choose to use SaaS applications, the need for SaaS development services is also strengthened. The biggest benefit of the SaaS application is a reduced cost of delivery for both SaaS providers and SaaS subscribers. SaaS owners are able to deploy, update and fix their offerings in the cloud, which helps with reducing the cost of maintaining the software for the SaaS provider. SaaS services created a higher standard for service delivery to consumers as compared to the on-premise model, this means that SaaS vendors are in continuous need of innovation to avoid the risk of losing their customers to the competition.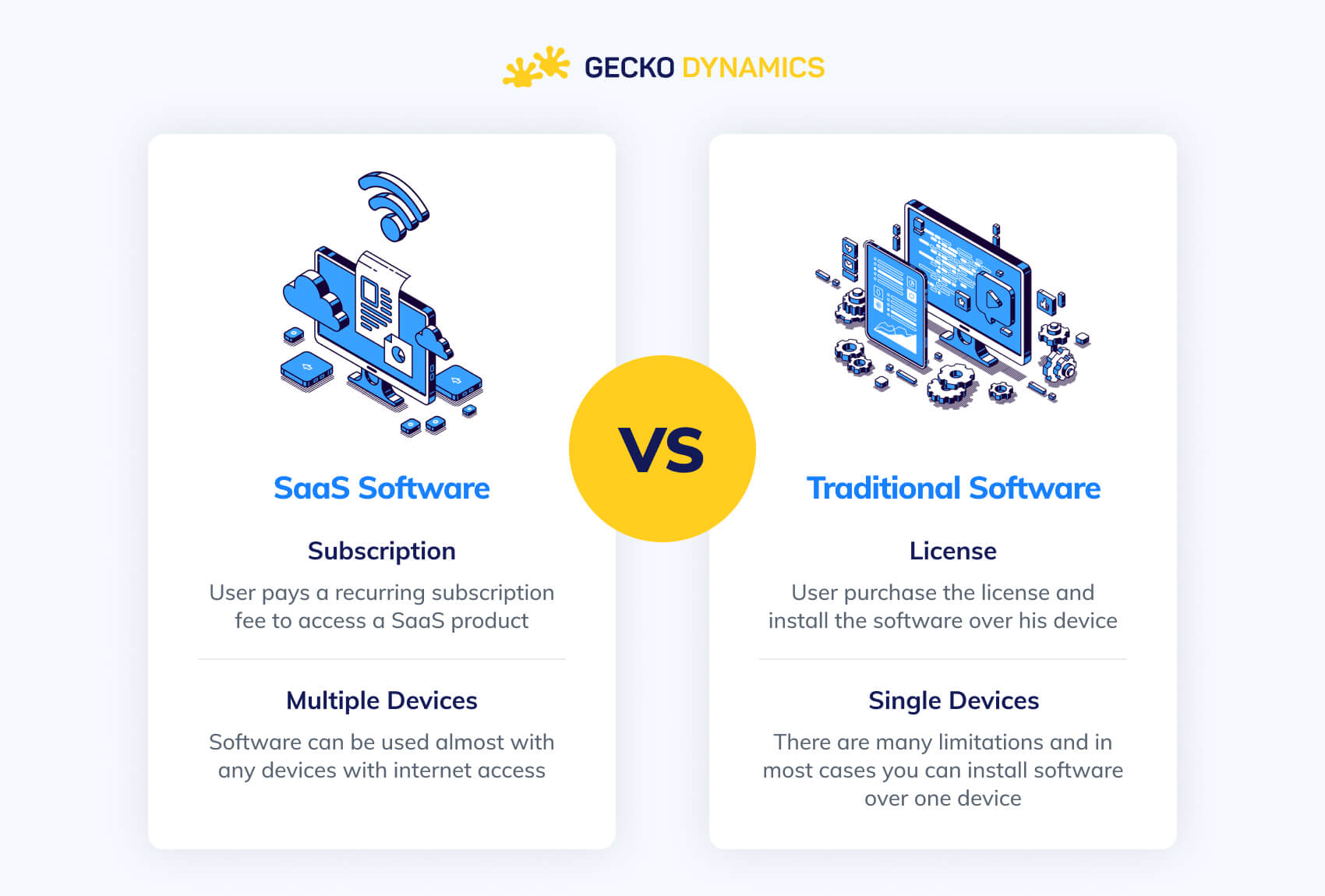 Vertical and Horizontal SaaS
At the beginning of the SaaS Industry vendors focused on providing solutions that covered various industries. In other words, the goal was to satisfy the needs of as many people as possible. An example of a classic horizontal SaaS product is customer relationship management (CRM) called Salesforce. Every organization needs a CRM, but when it comes to specific problems generic solutions can't always solve all the problems. In the last few years, there has been a surge in vertical SaaS companies, which create solutions that are catered for specific industries. A vertical SaaS provider renders a target to a specific industry only. Vendors focused on a certain niche are more likely to provide solutions for those specific problems. The vertical SaaS model takes a much more narrow approach than its horizontal competitors.
Saas Advantages
1. Scalability
Cloud-based applications' popularity is growing rapidly as hosting costs have been reduced and computing resources become more available and efficient. Scalability is the ability to increase the capacity of the software service delivery by increasing the number of services that are provided when it's demanded by adding resources to meet application demands as required when it's needed. Generally, we expect that if a service scales up to handle an increase in demand for service it should be matched by the proportional increase in the quantity of the software instances proportionately with the rise in demand without degradation in terms of quality.
2. Stable revenue
Revenue is a key aspect of every business, in the case of SaaS the recurring revenue subscription model creates business stability. Building customer loyalty is a start point in the case of getting consistent monthly revenue from subscriptions. When you know that you will have customers, you can invest in the acquisition of new customers with a much higher degree of confidence. Operations become more reliable and predictable, lending themselves to standardized processes that can be continuously improved.
3. Easy to use for customers
Cloud apps helps with reducing maintenance and management, also there are no upfront hardware costs. The availability is only limited to an Internet connection, so you can access it anywhere, anytime, from any computer or device. Furthermore it saves organizations from having to invest in hardware and install, configure and run apps locally.
SaaS Security & Privacy
Paradoxically, security is both a weakness, and a strength of SaaS apps. You may ask, why?
Even if we use set of practices to prevent potiental problems on the providers side, some predictions says that through 2025, 99% of cloud security failures will be the customer's fault. Overally SaaS security benefits can save many companies from devastating consequences of data breaches and cyber attacks.
Conclusion
Nowadays, most market experts totally agree that the future of SaaS looks very bright. SaaS provides great alternative to standard software installation as well as easy upgrades and better scalability. here are new SaaS startups cropping up all the time, looking to make everything from restaurant applications to visual recognition software available on demand.
If you want to talk with us about your project - Contact Us.