Rubica Survey Builder
Rubica Survey Builder is a custom survey creator developed for Rubica – British Change Management company to support one of their key business goals which is measuring various aspects of change management by surveying the staff.
Duration:
March 2018 – Ongoing
Technologies used:
Java, React.js

Client's country: United Kingdom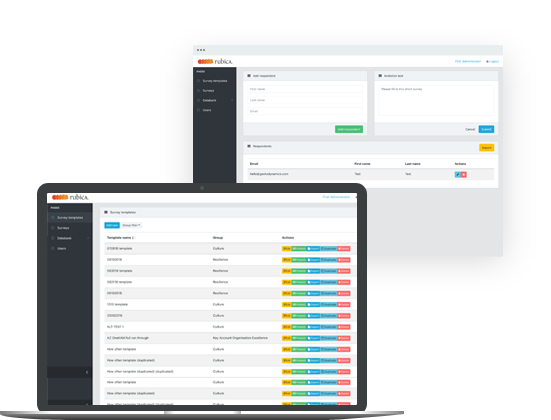 Client & Situation

Rubica Change & Analytics Ltd. is a British company which primary expertise is conducting the change management across the companies, measuring the impact they create and leading the further development basing on the received results. Rubica needed a tool that will optimize one of their main business processes related to the change management expertise, which is surveying the employees of their clients on various aspects of their work life and assessing the correct conclusions.

Solution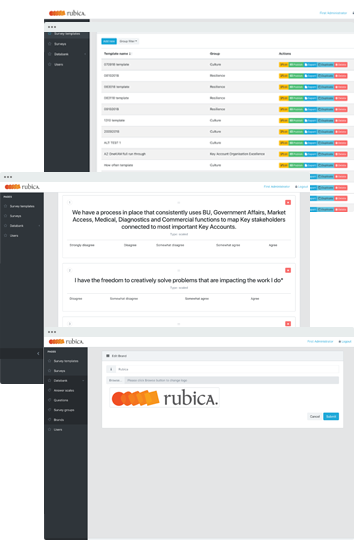 Gecko Dynamics developed a surveying tool allowing Rubica to create custom surveys with various types of questions and basing on multiple custom design layouts. The system has been launched shortly after the development successfully conducting the first surveys with multiple clients and providing Rubica robust statistics allowing to evaluate the data and assess the correct conclusions.System functionality includes:
Creating a survey basing on the predefined design layouts
Creating survey by adding different question types (single choice, multiple choice, scaled answers, open answers, etc.)
Submitting the survey to multiple participants and overview who of the surveyed participants completed it and who did not
Sending follow-up messages to the participants
For survey respondents – receiving an invitation to the survey and completing it
Thorough admin panel for Rubica with complete survey management
Manageable databank of various survey types and questions
Ability to view the survey results in the respondent-view (per individual respondent)
Survey results gathered from all respondents with ability to export
Statistics of the survey completeness (number of sent surveys vs. completed / not completed, etc.)
Results
The system is constantly in use since 2014
The client admits it has reduced the number of errors and improved management very much
Kofein is constantly spreading its presence on the market by incorporating new restaurants and cafes into the chain and applying developed software in each of them
As the client is much satisfied about the results, the cooperation continuously grows as Gecko Dynamics proceeds with maintenance & support services for the product as well as adding new features and modules, such as e.g. table booking. The project has become a big and complex system, while the client is constantly expanding its presence on the market with new chains and restaurant, all with help of software developed by Gecko Dynamics.