M-Star Solutions
Utopian Hotel Collection (https://www.utopianhotels.com/home) is a platform enabling users to book their stays in luxury hotels grouped by the highest rankings of standards.
Duration:
April 2018 - August 2018
Technologies used:
.NET, JavaScript, Angular

Client's country: United Kingdom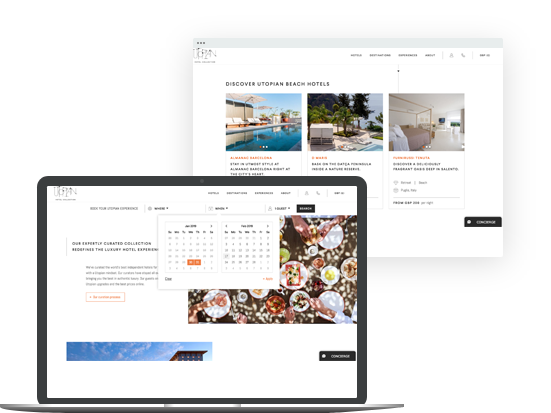 Background
Please describe your company and your position there.
I'm the COO of Mstar Solutions Limited, a software consulting and development company. We find existing pain points for our clients and offer solutions for the short and long term. We provide custom development serves and contract partners from around the world to help our customers.
Opportunity / challenge
For what projects/services did your company hire Gecko Dynamics?
Our client, a curator of luxury hotels, was facing multiple challenges. They needed a comprehensive understanding of their concept and ironing out their business model. The previous development team we used for this client had misunderstood the requirements for their application, so we decided to bring Gecko Dynamics into the project to solve communication problems between the two teams.
What were your goals for this project?
We wanted the collaboration to result in a successful project for the client, with no misinterpretations or confusion.
Solution
How did you select this vendor?
We interviewed several developers. We chose Gecko Dynamics because of the experience, priorities, and general understanding of the project. They also offered strong internal capabilities.
Describe the project and the services they provided in detail.
To begin, Gecko Dynamics provided code review to take over from the previous team. They fixed several aspects of the current application and added the new features the client required. Outside the development services, their team also provided business analysis services, design consultation, and frontend design implementation.
What was the team composition?
They provided one full stack developer, one frontend developer, and the project manager who also served as a business analyst.
Results & feedback
Can you share any information that demonstrates the impact that this project has had on your business?
Our client was relieved and happy to accept the finished product Gecko Dynamics produced. The project had been stuck before their team's help, so they helped us move forward and collect payments from our customer. Having their support also allowed us to expand into other fields and markets, so it was good for our business.
How was project management arranged and how effective was it?
They were strong communicators and they understood all protocols. All deadlines were expressed in advance and all stages of the project were documented. The project manager frequently interacted with my team and the client, which helped manage overall expectations. We had no communication issues with their team, as they could speak and write in English excellently.
What did you find most impressive about this company?
We appreciated their honesty; they dealt with every issue that came their way. They only made promises they could keep, which allowed us to give our client realistic expectations. Their team provided quality services at a moment's notice.
Are there any areas for improvement?
It could have been helpful if they hired more developers. Their skills were very impressive, but they could better market their services if they expanded their staff.
5.0
Overall Score
Whenever we need a team to collaborate with, they are our first choice.
5.0
Scheduling
On time / deadlines
We had scheduled meetings and they adhered to deadlines.
4.5
Cost
Value / within estimates
Their cost is competitive in the European market. Their service was worth the price.
5.0
Quality
Service & deliverables
All the work was high quality and aligned with our standards.
5.0
NPS
Willing to refer
We're likely to recommend their services, we had a great experience.