TekeTeke
Custom M-Commerce ecosystem enhancing online shopping and delivery
TekeTeke
TekeTeke is an m-commerce digital ecosystem for focused on online shopping and delivery in Nairobi, Kenya, developed for the Kenyan enterprise Greenskies Investment as another project in their investment portfolio.
Duration:
February 2018 – May 2018
Technologies used:
Java for Android, Swift, PHP

Client's country: Kenya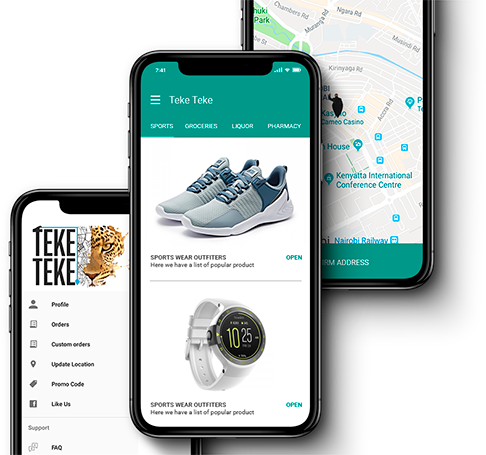 Client & Situation:

We took over the development of this project on demand of the client, after previous software development company failed to deliver the project within the desired timeframe, cost and quality. The product couldn't be deployed to the market because of flawful application and our job was to bring the originally desired quality and make it running flawlessly. What is important to mention, while other companies contacted by the client were advising to develop the app from scratch with higher cost, Gecko Dynamics was the only one capable of working on the provided source code and refactor it instead of coding from scratch.

Solution
We started with thorough code audit to identify the areas for improvement and grouped them in various priority categories to give the client an overview of which improvements are critical and most urgent before deploying the app on the market and which can wait for later. After the code review, the client asked us to proceed with our findings which ended up in performing multiple tasks and improvements in mobile, backend & frontend parts of the system consisting of 4 main areas:Native mobile application for iOS & Android for regular users (buyers):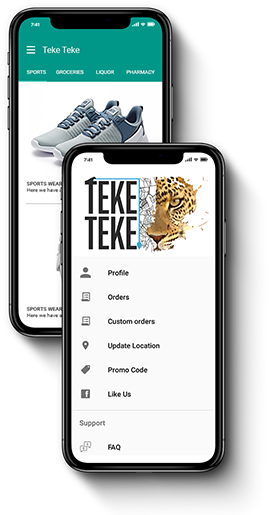 Browsing for various shops and their products basing text search and products categories (food, clothes, electric products, beauty shops, sports, etc.). Sellers are the physical shops located in across Nairobi, Kenya.
Making the purchases choosing from products available in the shop
Paying via integrated mobile payment gateways that are specific and well-known in Africa, such as M-Pesa and Pesapal
Setting the delivery address
Signing up with email or Facebook, creating user profile
Showing orders history
Ability to use promo codes to get the discounts
Livechat with the app's support consultants
Native mobile application for Android for the deliverers
Registering with email
Getting the notifications about products ordered by the user and delivery address
Navigating to the delivery address
Livechat with support consultants
Web app for shops and sellers – separated from the main admin panel
Registering the shop, creating its profile and adding the products
Managing the orders and their history
Basic statistics and reporting
Admin panel for super-admins and call-center employees
Ability to manage the registered shops database (block, remove, etc.) and viewing their data, such as products and orders history
Chatting with users and deliverers
Statistics and reporting
Overview of the registered users and deliverers with ability to manage them (block, remove, etc.)
Adding new admins to the systems
Results
After one month of work the Android application was working not only flawlessly, but also quicker and lighter than its previous version
Major bugs were eliminated and product became ready for market deployment
Satisfied customer recommended us to other clients from his business network
After Gecko Dynamics completed its job, the client faced some unexpected legal issues which led to putting the app's
deployment further in time. At this moment, everyone at Gecko Dynamics and on client's end is impatiently waiting for the product to be released and become
another living proof of how you can fix an application with poor source code using solid refactoring instead of coding it from scratch.